The Poor People's campaign kicked off 40 days of nonviolent protest on Monday, reviving King's anti-poverty efforts and demanding action
The Poor People's Campaign:
A National Call for Moral Revival
is uniting tens of thousands of people across
the country to challenge the evils of
systemic racism, poverty, the war economy, ecological devastation
and the nation's distorted morality.
We're living in an impoverished democracy. People across the country are standing up against the lie of scarcity. We know that in the richest country in the world, there is no reason for children to go hungry, for the sick to be denied health care and for citizens to have their votes suppressed. Both parties have to be challenged — one for what it does and one for what it doesn't do.  — Rev. William Barber

It's like listening to a song you used to know.
It's an old sweet song, a hymn of hope and possibility. It's a tune you haven't heard in far too long.
That's how it is when Rev. Dr. William Barber speaks morality. It's not just that Barber, pastor of Greenleaf Christian Church in Goldsboro, N.C., and organizer — with Rev. Dr. Liz Theoharis — of the new Poor People's Campaign, is eloquent. No, it's that he reminds you how rare it has become to hear morality framed as something large and all-encompassing, an obligation each of us owes all of us.
What passes for morality in the modern era is often shrunken and cramped, reduced to an obsessive concern over what happens in other people's bedrooms. But morality isn't small. Rather, it is the very large question of how we treat one another, care for one another, as passengers on this rock. And as Barber noted in March in a conference call with reporters, that's a question this era is overdue to confront.
"Every generation, whether it's the abolition movement in the 1850s or it's the woman's suffrage movement in the late 1800s, early 1900s, or it's the Bonus Marches that helped produce the New Deal in the 1930s, every generation has to stand up. There has to be a moral dissent and a moral critique in every, every, every generation. If there is injustice, if there is oppression, every generation has to pick it up. The success begins when you stand up and challenge it."
The new Poor People's Campaign (www.poorpeoplescampaign.org) opened Monday in 30 state capitals, though not Lincoln, and continue for 40 days. Theoharis says it will involve "organizing, educating and power building, voter registration and mobilization" around "issues like voter suppression, issues like poverty and low wages, issues like the lack of health care, issues like the fact that more people die in this world from pollution than from any other cause."
This campaign is a continuation of one Martin Luther King was working on when he was killed. In 2018 as in 1968, its challenge — and promise — lie in getting people to understand the intersectionality of their problems. Which is just a fancy word for helping a poor white farmer in Alabama see that she has more in common than in contention with a poor black janitor in South L.A. — and vice versa — so long as neither can afford to keep the car running or the refrigerator full.
"It has to be fusion," says Barber. "It can't just be in our individual silos. We can't just have African Americans talking about systemic racism and white people talking about poverty. We need everybody engaged on these issues and understanding how they are interlocking injustices."
The aim, he says, is to put a "face on the facts." "Pat's" face might do. In December, she told public radio's "This American Life" how, after 44 years working at an Alabama chicken plant, she earns $11.95 an hour.
Critics will say we already had a War on Poverty, and poverty won. Barber doesn't buy it: "We left the war on poverty; we did not lose the war on poverty." He notes that we give "trillions of dollars of tax cuts to the wealthy but then put at risk every program that impacts the poor, refuse living wages, refuse health care in the wealthiest nation in the world."
Monday, Barber and Theoharis began renewing King's last dream. Against the shriveled morality of the age, they issue a moral appeal that calls us to do better, to be better, all of us, together. It reminds you what it was once like to think you could grab the Zeitgeist by the throat and force it to change.
And it makes you wonder: how did we ever forget this song?
Leonard Pitts Jr. writes for the Miami Herald.
WEEK ONE (May 13-19)
SOMEBODY'S HURTING OUR PEOPLE: Children, Women, and People with Disabilities in Poverty
WEEK TWO (May 20-26)
LINKING SYSTEMIC RACISM AND POVERTY: Voting Rights, Immigration, Xenophobia, Islamophobia, and the Mistreatment of Indigenous Communities
WEEK THREE (May 27-June 2)
THE WAR ECONOMY:Militarism and the Proliferation of Gun Violence
WEEK FOUR (June 3-9)
THE RIGHT TO HEALTH AND A HEALTHY PLANET: Ecological Devastation and Health Care
WEEK FIVE (June 10-16)
EVERYBODY'S GOT THE RIGHT TO LIVE: Education, Living Wage Jobs, Income, Housing
WEEK SIX (June 17-22)
A NEW AND UNSETTLING FORCE: Confronting the Distorted Moral Narrative
June 23 – Global Day of Solidarity and Sending Forth Call to Action Mass Rally in Washington DC
The Poor People's campaign kicked off 40 days of nonviolent protest on Monday, reviving King's anti-poverty efforts and demanding action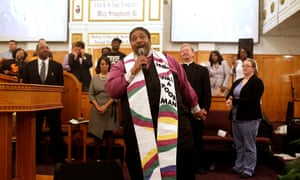 Hundreds of low-wage workers, faith leaders, civil rights organizers and liberal activists were arrested in demonstrations in Washington and outside statehouses across the US on Monday as they resumed the work Martin Luther King left unfinished.
Fifty years after King launched the Poor People's Campaign against economic inequality, militarism and racial injustice, demonstrators revived that fight, kicking off 40 days of nonviolent action.
The new effort, The Poor People's Campaign: A National Call for Moral Revival, is being led by co-chairs William Barber, a pastor at Greenleaf Christian Church in Goldsboro, North Carolina, and Liz Theoharis, an ordained minister and anti-poverty campaigner from New York City.
In Washington, the group gathered on the lawn outside the US Capitol to hear Barber declare: "Something's wrong in America."
Their action on Monday, Barber continued, was not just a commemoration of King's anti-poverty efforts, it was a new call-to-arms.
"We are here to have a reconsecration and a re-engagement because you do not commemorate the death of [a] prophet," Barber said, his voice building as he spoke. "You go to where they were killed, reach down in the blood, pick up your baton and carry it the next round of the way. Now who's ready?"
The crowd parted and Barber and Theoharis led a procession of activists trained in civil disobedience toward the street, where they were prepared to be arrested. Two-by-two the demonstrators walked, representing nearly three-dozen states and Native American reservations.
The group sang hymns and chanted their demands as they marched toward the police, who had formed a blockade. Barber, in his purple robe, was the first to breach the line and was arrested. Dozens more followed as hundreds more cheered them on from the steps of the Library of Congress. Theoharis was the last to be arrested.
Similar scenes were replicated across the country in North Carolina, Missouri and California. In total, the Poor People's Campaign said 1,000 activists were arrested nationwide.
The group hopes their action will draw attention to what they say is an urgent need to alleviate poverty and improve living conditions for millions of Americans. In 2016, nearly 41 million Americans lived in poverty, according to the US Census. But the organizers point to research by the Institute for Policy Studies that found nearly 140 million people are either poor or low-income when other factors are considered, including expenses on food and housing.
The campaign's list of demands are long and aspirational. It includes federal and state minimum wage laws "commensurate for the 21st century economy", relief from student-loan debt, a repeal of the 2017 GOP tax cuts legislation, restoration of the Voting Rights Act, an end to mass incarceration, a fracking ban, protection of public lands, a cessation of US military involvement and universal healthcare.
The original Poor People's Campaign of 1968 was organized by King in the months before his assassination. The centerpiece of the campaign was a mule-drawn caravan from Marks, Mississippi, which at the time was the poorest town in the poorest county of the poorest state in the nation. The procession arrived on the National Mall in Washington to join a national protest in Washington, where thousands of impoverished Americans occupied the National Mall for six weeks in a camp named as Resurrection City.
The protesters will return each Monday for the next 40 days. Every week will focus on a different group of marginalized people. This week the protests and activities will focus on child poverty, women and people with disabilities. Other themes include racism, veterans, war and the environment.
At the end of the 40 days of protest, on 23 June, the activists from around the country will gather in Washington for a mass demonstration at the US Capitol. Organizers say the 40-days of action are just the beginning of what they hope will be a multi-year campaign that will include voter mobilization and other efforts.